---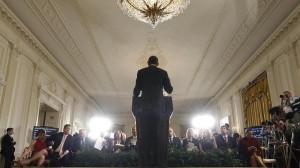 Reuters, Washington
The fate of a U.S. congressional resolution to authorize a military strike against Syria is in the hands of dozens of lawmakers from both parties who are so far publicly undecided on how they will vote.
With many Democrats non-committal, it could come down to President Barack Obama's ability to persuade normally loyal liberals in his own party to stick with him.
Memories of the protracted wars in Iraq and Afghanistan are still fresh in their minds, leaving many of both parties worried that a military strike will lead to a longer and larger engagement in Syria.
Recognizing this, the White House is focused on drawing distinctions between limited plans for Syria, tailored to the apparent use of chemical weapons by the government of President Bashar al-Assad, and those decade-long wars that followed the attacks on New York and Washington on September 11, 2001.
"This is not open ended, this is not boots on the ground," deputy national security adviser Tony Blinken said Thursday on MSNBC before heading off to Capitol Hill to brief lawmakers.
"This is not Iraq. It's not Afghanistan. It's not even Libya," he said, referring to the intervention by the U.S. and allies in Libya in March 2011, which ultimately led to the overthrow of Libyan leader Muammar Gaddafi.
Based on surveys by a variety of news organizations of public comments, roughly 50 members of the 100-member Senate have not made up their minds. According to a Washington Post count, 34 of the 50 are Democrats.
The Post count listed 103 members of the House of Representatives as undecided, of whom 62 are Democrats. There are 433 members currently sitting in the House.
Tough road ahead
The administration continues to lobby for supporters on both sides of the aisle. The Senate is expected to vote late next week. If the Senate approves it, the measure would then go to the House. It is unclear if the House would vote next week, or bring it up the following week.
While the Senate vote is expected to be close, the greatest risk to Obama will likely be in the House, controlled by Republicans with little sympathy for an overseas entanglement and a history of opposing Obama at almost every turn.
A taste of what the President is up against with Democrats came early Thursday when one of the most progressive and senior members of the Senate, Barbara Mikulski of Maryland, declined during brief comments in a hallway on Capitol Hill to say which way she was leaning.
"I have more questions than I have answers and I hope to get them over the course of today and tomorrow," she said.
He will need Republican support as well. Republican Senator Susan Collins told reporters that the White House had not yet clearly stated its broader strategy.
"I continue to have many, many questions about the ramifications of a limited military strike … I am also very wary of the United States becoming entangled more and more deeply in what is a civil war," said Collins, one of the few remaining Senate Republicans moderates.
Collins made her comments as she entered a meeting of the Senate intelligence committee, which is reviewing the administration's top secret analysis of what happened in Syria.
The first real vote, supporting an authorizing resolution, by a margin of 10-7 in the Senate Foreign Relations Committee, offered even more concrete evidence of the president's problem.
Democratic Senator Ed Markey, a long-time liberal elected from Massachusetts to fill the seat vacated when John Kerry stepped down to become Secretary of State, voted "present," taking no position.
"I am concerned about the unintended consequences of a U.S. military attack on Syria," he said in a statement, "and the potential that such a strike could lead, over time, to the entanglement of our brave service men and women in an intractable Syrian civil war."